Types of Fences by Material
The easiest way to classify fence types is by material. Alongside the construction type, the materials will largely determine how long and how safe your fences are.
The main materials used in residential fences include:
Wood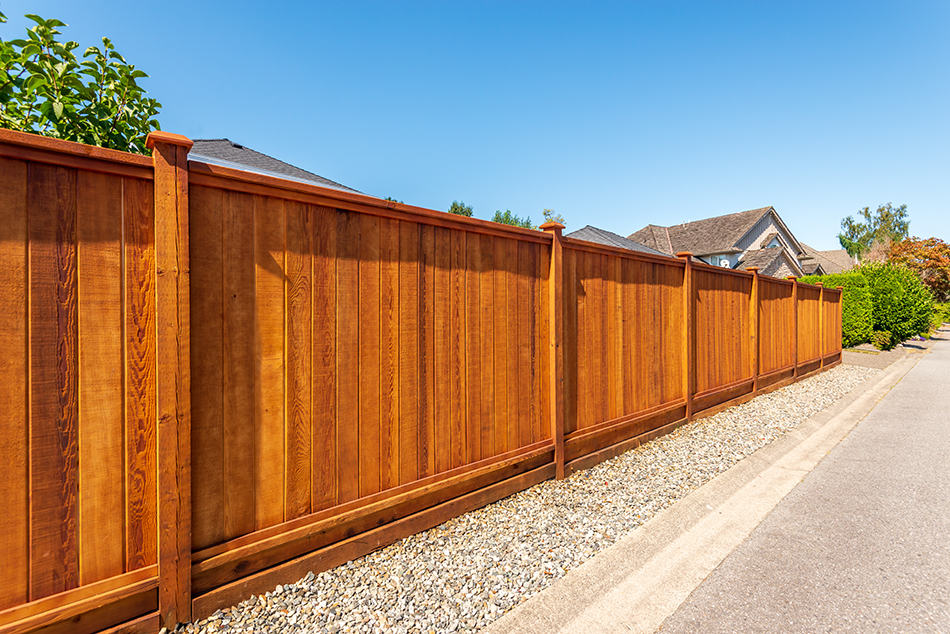 Popular, affordable, and classic wood fences are as old as the concept of private property. Usually, wooden fences are relatively light and easy to install, especially if you opt for a low model.
In addition, wooden fences are also remarkably flexible. This is not the kind of material that will inherently steer you towards a specific style. You can adjust the height and length of the planks you use, as well as how close they are to each other. Further, the type of wood that you use will also affect the overall look and durability of your fence.
For example:
Red cedar is pretty expensive but can last for up to 50 years. It is also resistant to plagues and termites
Oak is another superb choice for tall fences and can last for over a decade
Spruce, on the other hand, can look very traditional but will only last about 5 years. However, its texture absorbs paint well and provides vibrant colors
Bamboo is a trendy new alternative for warm climates. It is eco-friendly and cost-effective but will need to be replaced quickly.
In order to prolong a wooden fence's lifespan, you will need to treat it and maintain it constantly. Some types of wood can be waterproofed through the right type of paint or varnish. On the other hand, stained wood fences often look more aged and more elegant when they are new. Any accidental damage or wear and tear will become visible very quickly.
Metal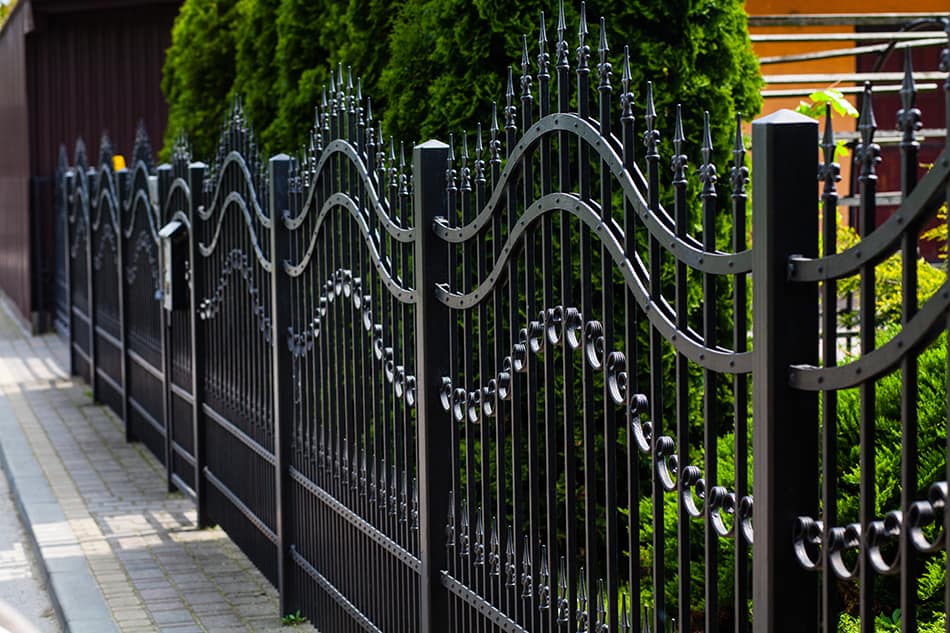 Metal lasts forever – at least, it is supposed to, provided it doesn't rust and that a professional burglar doesn't snap it in half.
For the most part, metal fences are made from either iron, steel, or aluminum. Even with steel, there are many alloys and variations that will allow you to play with its heat resistance, its ability to withstand shaking or heavyweights, and even its appearance.
One of the main advantages of metal is its versatility. Theoretically, metal can be cast or welded into any possible shape. If your local regulations don't limit you, you can include leaves, bird motifs, or even untraditional spooky statues in your wrought iron gates.
Other types of metal fences include chain link fences or sleek aluminum boards. Either way, you will be looking at an expensive but top-tier gate option. Metal is also difficult to install since it is heavy and needs to be handled by a professional crew.
Once the initial setup is over, however, good metal will require very little work beyond routine cleaning.
PVC Fences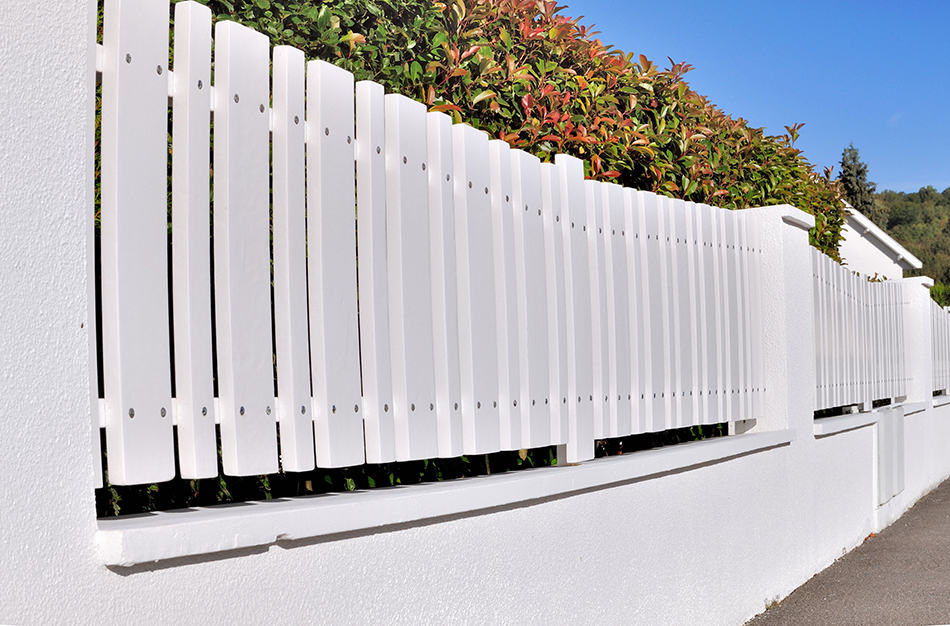 PVC is a synthetic material that can be easily made to look like any other material. When it comes to fences, it is particularly useful for those looking for a cheaper and lighter alternative to wooden fences.
As PVC is essentially a type of plastic, it will also offer a great alternative for those in tropical climates, where wood would usually rot quickly. However, PVC pieces or planks cannot be really altered or customized for your property (unless they are custom-made, in which case they will become significantly more expensive).
Usually, they need to be bought in a preset style – such as the traditional "white picket fence" look or the "Mediterranean imitation" one. Often, they are meant to be modular, so you can just add an extra "section" or a couple of additional vertical poles to make it fit around your area.
There are two types of PVC fences available. Pure PVC fences are made completely from plastic. They are very cheap and easy to carry around – so you may even try to install them yourself. However, such a light fence will not provide a lot of protection from burglars or animals.
Instead, you may opt for composite PVC fences. These are essentially wooden planks or poles that are coated in PVC. This makes them a little bit sturdier, and the wood inside will remain protected from the elements by the PVC.
Vinyl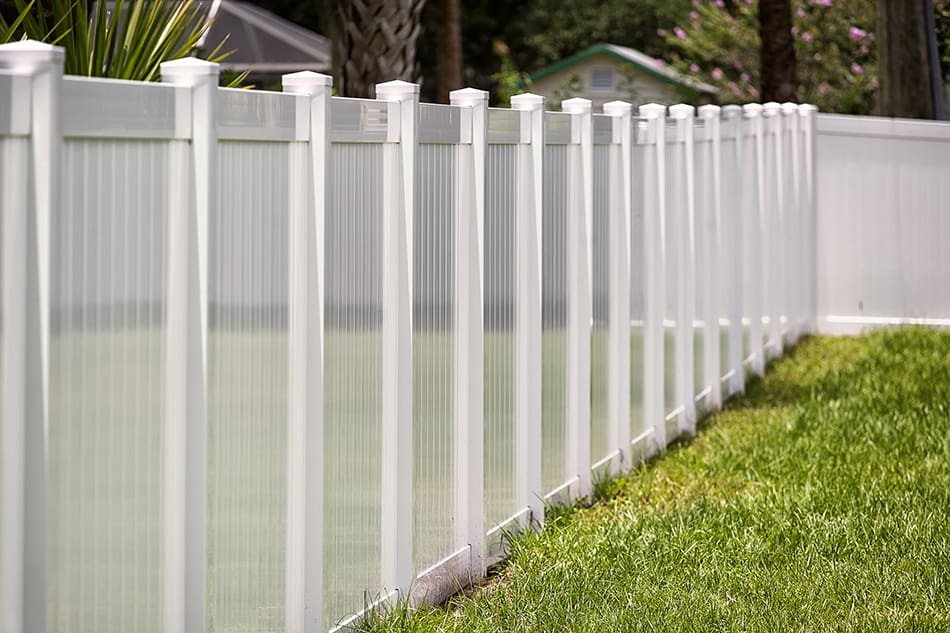 Very similar to PVC, vinyl is also a synthetic material that can be made to look like many others. However, it is heavier than PVC and can withstand harsher blows. It may still be light enough for you to carry and install without help. In addition, vinyl has a shiny quality that often looks very nice under the sun.
This same special coating will prevent it from staining (either by nearby plants, the elements, or vandalism). Therefore, vinyl fences can simply be hosed down: they will almost always look as good as new ones after being washed. The hinges and other additions usually require little to no maintenance.
They are more expensive than PVC fences.
Stone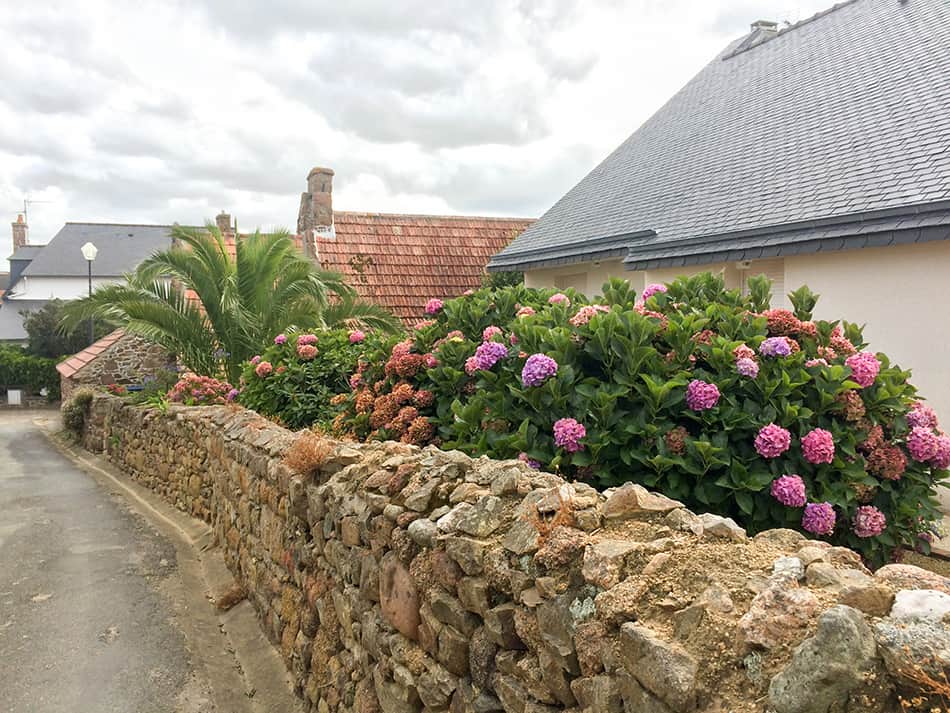 Stone fences are heavy and can be expensive. However, if you are into gardening, they may blend very well with your existing landscaping. The initial installation can be complex and may require professional help – but if properly set, nothing but an earthquake will tear down your stone fences
A big part of the final cost will depend on the type of stone you use. Newer types of porous stone (often called eco-stone) are meant to allow mulch and lichens to grow on the pre-cast granite. This will give them a vintage "old world" appeal in less than a year's time.
Other types of stone are cheaper but less beautiful to look at. A good way to counter this is to install a hidden, low stone fence and surround it with a tall hedge or shrub.
Contact Bishoff Home Services to get a free estimate on installing one of these fence types or a recommendation on which way to go given the type and size of your yard.